Introduction to Capri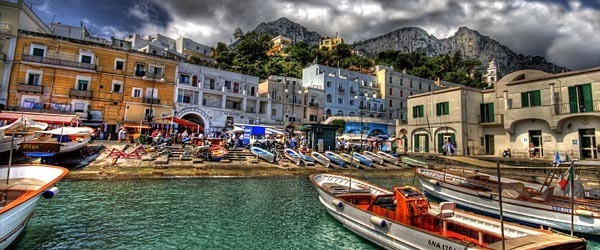 There is a charming Italian island in the Tyrrhenian Sea in the Campania region of Southern Italy known as Capri. The island has the little harbor, Marina Piccalo, and the main port of the island is Marina Grande. To get to Capri you can go by boat, plane or train, the choice is yours.
Once on the island visit the Belvedere of Tragara, a panoramic promenade which is lined with villas. Spend time at the limestone crags or sea stacks that are high above the sea. Tour the Blue Grotto and see the ruins of villas of the Imperial Rome.
Look up from the port and see the Capodimonte Cliff in Anacapri, 200 meters (660 feet) above sea level. If you are the brave soul, climb the steps which were built in 1874, from Marina Grande to the top.
Visit the Church of San Costanzo – a Byzantine style church and dedicated to the Patron Saint of Capri, Costanzo. Also of Byzantine origin is a castle which the Saracen pirate, Barbarossa, was responsible for violently "sacking the island."
Make sure to view the natural arch rock, and the Faraglioni rock formation. Visit the Punt Carena also.
Capri offers many choice for accommodations from five star hotels to one star hotels. You can rent a villa which is great for a family or you can stay at a bed and breakfast, which would be wonderfully romantic.
When you are hungry Capri offers a wide varity of foods to choice from. There is an abundance of fish and other sea food, from stuffed calamari to grilled scampi. You can enjoy a typical Italian meal of pasta, such as Capri style ravioli. If you want meat that is available also even wild quail. So no matter what your taste in food is you can find it in Capri.
So get your passport out, pack your bags, and make your reservations for a wonderful time in Capri, Italy.
Photo by vgm8383 on flickr