Introduction to Louisville (Kentucky)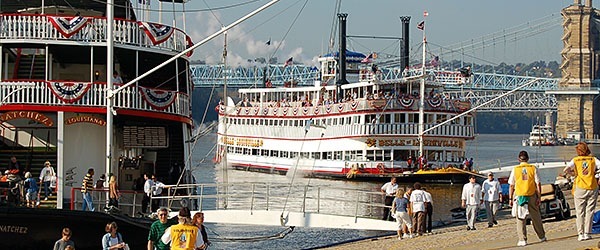 Louisville is the most populous city in Kentucky and the 42nd most populous city in the United States with just over one million residents. The city is most famous for the annual first race of the Triple Crown horse races known as the Kentucky Derby.
Louisville received its name in 1778 in honor of King Louis XVI of France for his country's aid in the American Revolution. The reason for Louisville's location was because the Ohio River ran through the land, and water-based transportation was a huge factor for early American pioneers. Speaking of the river, if you want to go back in time while visiting, a trip on a steamboat, with classic paddles and all, can be had here.
In the Civil War in the mid-19th century, Louisville was a great resource for the Union Army especially due to its key position on the river. After the Reconstruction and changes due to the Industrial Revolution, the city was essential for the wartime preparations of the United States as many factories were located there. Since then, the city has experienced both urban revitalization and urban sprawl as many large American cities have in the 30 years after the Second World War.
Today, the heart of the city stands proud above the developed inner urbanization and outer flood plain and rolling hills of the region. Its economy is bolstered by producing 35% of the world's bourbon, and companies like Papa John's, Norton Healthcare, and the Presbyterian church all call Louisville their home.
Of course, it is also home to Hillerich & Bradsby, the manufacturer of the world-famous Louisville Slugger that first comes to mind when the city is mentioned. Some cultural events held in Louisville include: Abbey Road on the River, an annual Beatles celebration; the Kentucky Shakespeare Festival; Forecastle Festival, an annual arts festival; and Ironman Louisville, an annual triathlon.
As the city has no major sports teams, city residents hold college sports close to their hearts, and many go to see games of the University of Louisville, the largest public university in town. All in all this big southern town is a meld of both historical and modern sensibilities that show visitors just what modern America is all about.
Photo by Bryce Mullet on flickr