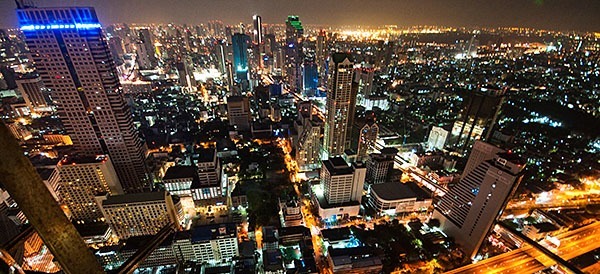 At street level, Bangkok is a whirlwind of tuk-tuks, honking horns, crowds and traffic jams. It is exciting, but easy to get overwhelmed if you are not used to such a sensory overload. However, from above you can survey its green expanses and enjoy the how the river peacefully meanders through the city.
During your trip to Bangkok, rise above the chaotic and bustling streets to sip a cold drink at one of these ultra-hip rooftop bars. They are the perfect vantage point to watch a stunning sunset and the twinkling city lights. They offer stylish drinks in a laid-back atmosphere and make the perfect finish for a day of shopping at the MBK Center, visiting the Temple of the Reclining Buddha or dining on seafood at the floating market.
Sky Bar by Lebua
This bar has a vintage feeling to it and was the site where a key scene from "The Hangover 2" was filmed, giving it a Hollywood connection. Sky Bar is the highest 360-degree rooftop bar in the city and it is located on the 63rd floor. You make your entrance on a sweeping staircase and the bar juts over the edge of the roof.
Advertisements:



The view of the city is spectacular, as it features the river. While you are there, try a Hangovertini which is a delicious blend of rosemary honey, Martini Rosso, apple juice and green-tea liquor.
Blue Sky Rooftop Restaurant
This restaurant and bar, located at Centara Grand Lad Prao Hotel, has great cocktails and international cuisine with a stunning view of Bangkok. The bar is perched on the 24th floor and has a panoramic view of downtown Bangkok, including green and leafy Chatuchak Park below. At night, it is fascinating to watch the steady stream of lights.
Aside from the view, this bar and restaurant also boasts a superb collection of cocktails and gourmet meals, featuring creative takes on international cuisine.
Long Table
This swanky restaurant and bar is great to head to if you are looking for delicious and creative gourmet food, stunning views and good conversation. It is on the 25th floor and features gorgeous views of the Sukhumvit area.
This bar is designed for socializing. You will end up sitting at a long table (hence the name) with other patrons. These communal tables make it easy to strike up a conversation with a stranger and make new friends, leading to an evening of mingling.
Vertigo at the Banyan Tree Hotel
Relax into the comfy sofas at Vertigo and watch the river wind through the city. This bar has an extremely relaxed atmosphere. It will make you feel like you are on top of the world.
While you are there, order a "Vertigo Sunset." This signature drink is a fruity and light blend of lime, cranberry, pineapple and Malibu that will make you feel like you are on a tropical beach.
L'Appart
This French restaurant and rooftop bar, located on the 32nd floor, has a unique design. It is styled to look like a luxury Parisian apartment from the turn of the 19th century. When you visit, you can eat in the living room, on the terrace, in the library or in the kitchen! This fascinating restaurant makes you feel like you are a member of high French society and the cuisine is superb. The dishes are a mix of classic French cuisine and locally sourced ingredients, such as snow fish steamed with ginger, lemongrass and kaffir lime leaves.
The rooftop bar is also superb and has a balcony that wraps around the building a full 180 degrees, giving guests a view of the lights of Silom and Lumpini Park. These are five examples of the best rooftop bars that bustling Bangkok has. Why not head for a cocktail in the clouds and check them out?
About the Author: Riya Naveen is a freelance travel writer who has visited Bangkok three times and loves to enjoy a rooftop cocktail during a visit. She looks on Expedia to find hotels in Bangkok.
Photo by kirainet on flickr
You should follow me on twitter here.