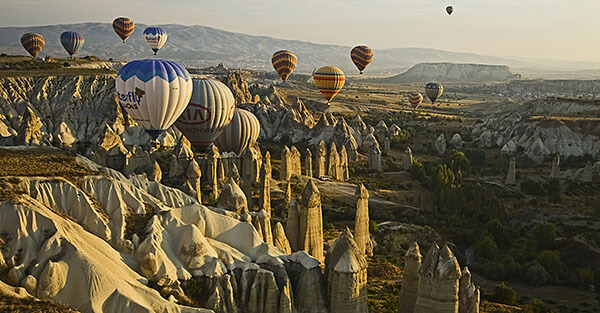 With the cost of travel becoming ever more affordable, holidaymakers are more often than not choosing to go much further afield for their breaks abroad and this has led to old favourite European tourist destinations getting forgotten. However with flights to Turkey being so cheap and with so many great things to see and do once you arrive, there really is no excuse not to discover the rich history, diverse culture and stunning beaches of Turkey. 
Advertisements:



Below is a list of five great reasons to see this traveller's paradise.
Bursting with history
Packed with Greek and Roman ruins, the southern coast of Turkey features several old crusader castles in Bodrum and Alanya and an array of architectural leftovers from the Byzantine and Ottoman Empires. For those passionate about history, there are plenty of museums for you to investigate, making it a particularly great destination if you have kids. A must-visit for architectural enthusiasts is the Cappadocia, a landscape made up of rugged rock formations resembling chimneys, formed from a series of volcanic eruptions over the ages. For accommodation with a twist you can even stay in your very own cave!
Balmy climate
Not only does Turkey have fantastic beaches which offer you the chance to try out amazing water sports like surfing; it also has a wonderfully moderate climate. With mild winters and summers stretching out between March and November, the Turkish Riviera is a great destination all year around!
Shopper's paradise
If you like to shop, then Turkey is an absolute treasure trove! Not only can you snap up local produce for a song, you can find handmade crafts and artefacts that are sure to enchant friends and family on your return. Take a walk around one of the many bazaars and take in the sights of the famous Blue Mosque and Hagia Sophia.
Gastronomic delights
For gastronomy lovers, Turkey's cuisine is absolutely unrivalled. Comprised largely of excellent locally grown items, the signature offering from many Turkish restaurants is meze. Made up of small portions of must-have mouthfuls including kebabs and fish dishes, these platters are perfectly complemented by a little glass of good quality Turkish wine.
Thriving nightlife
Whether you want to rent privately, stay in a hotel or even a hostel, Turkey offers great accommodation. And for those who enjoy strutting their stuff once the sun goes down, most haunts are within easy reach of Turkey's fantastic nightlife. Head to the capital Istanbul or Bodrum for discos, live music and even street parties!
Photo by Vin on flickr
You should follow me on twitter here.