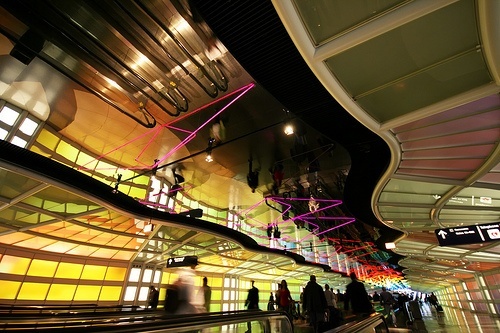 United (hearts) luggage
Or rather, frequent travelers who need to check luggage. United Airlines just launched a service called the Premier Baggage program, which allows you to pre-pay $249 for the privilege of bringing bags for free. Normally, United charges $40 per round trip for this.
The Premier Baggage program allows "… up to eight (8) traveling companions to check up to two (2) bags or checked bag equivalents each at no additional charge on domestic and international United and United Express operated flights. Traveling companions must be on the same confirmation number as the Premier Baggage subscriber."
Seems like you'll need to either be a family traveling together a couple of times a year, or a somewhat frequent business traveler who takes samples or similar to benefit. Of course, true frequent fliers are already exempt from checked luggage fees thanks to their Elite status.
As a final kick in the travelers' backside: The fee is auto-renewing, so you'll have to be very aware of cancelling it unless you need it for the following year/s as well!
Hotels are closing
While the credit crunch means that when we do travel, there are cheap hotel deals everywhere, it also means that once times improve, there will be fewer hotels to book. The latest figures show that hotel foreclosures in California have tripled in the last year. It's due to both leisure and business travel being lower than previous years. Occupancy rates are only 65% right now (Jan to Aug 2009), down 10% on last year's period, which is really bad news for hoteliers as they're losing money hand over fist by staying open.
Mickey D's in the Louvre
To celebrate the 30th anniversary of McDonald's restaurants operating in France, the company is opening a branch in the Louvre. I wonder whether they'll have a Mona Lisa theme? Not everyone's amused:
"This is the last straw," said one art historian working at the Louvre. "This is the pinnacle of exhausting consumerism, deficient gastronomy and very unpleasant odours in the context of a museum." The head of the Art Tribune website, Didier Rykner, thought this was the beginning of a downwards spiral: "Today McDonald's, tomorrow low-cost clothes shops," he exclaimed.
More stuff to read
If you're thinking about picking up hiking, read this interview with professional hiker Andrew Skurka [page gone].
Anyone in San Francisco should go ahead and check out Litquake, a week long literary festival.
Goreme in Turkey's Cappadocia region looks fantastic, post by Liz from Travelogged.
So does Montpellier in France, post by Marilyn McFarlane.
Advertisements:



National Geographic is running a soon-ending photo contest. Got amazing images? Why not take part, the contest ends 31 October 2009.
Road Junky wakes up on crack in Vancouver. Post by Alex Roberts. I'm lost for words...
Virgin America is trying out a new method of boarding passengers. Looks promising.
Photo credit: Intiaz Rahim
You should follow me on twitter here.