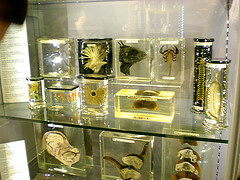 The Hunterian Museum of the Royal College of Surgeons, London, England is located in Lincoln's Inn Field and was formally opened in 1813. The museum originally contained the collection of John Hunter. This collection was purchased in 1799 by the government and presented to the Royal College of Surgeons. Two hundred years later, an Odontological collection and a natural history collection of Richard Owen were added to the Hunterian collection. At present the museum has in addition to these, anatomical specimens including the Evelyn tables, a collection of surgical instruments, and the skeleton of the 2.31 cm (seven and a half feet) tall Charles Byrne, the "Irish Giant".
The original museum was designed by George Dance and Nathaniel Lewis. However, as the museum grew, it was necessary to redesign the entire building and Charles Barry was given the task. The expansion of the museum began in 1834 and was carried out in two stages. When completed in 1852, the museum had three galleries, the East, West and Middle museums.
Advertisements:



Further extensions in Barry's style were made in 1888,1909 and 1921 to accommodate the growing collections. The museum suffered considerable damage during the war and lost a considerable part of its valuable collections. When the Royal College of Surgeons was rebuilt after the war, the Odontological collection was separated and attached to the Faculty of Dental Surgery. The Wellcome Trust added the Anatomy and Pathology museums. However, these were brought together under one management and the new Huntarian museum was opened in February, 2005. The museum organizes thought provoking and interesting events.
The museum organizes lectures, talks, and guided tours. Events suitable for the entire family are arranged during week ends and school holidays. One can also listen to past lectures and read interviews with speakers. The museum is open to the public from Tuesday to Friday, from 10 am to 5 pm. Admission to the museum is free.
Hunterian Museum address and hours
Hunterian Museum
The Royal College of Surgeons of England
35-43 Lincoln's Inn Fields
London
WC2A 3PE
Open Tue - Sat 10 am to 5 pm
Closed Sundays and Mondays
Photo by Sumlin (2) on flickr
You should follow me on twitter here.