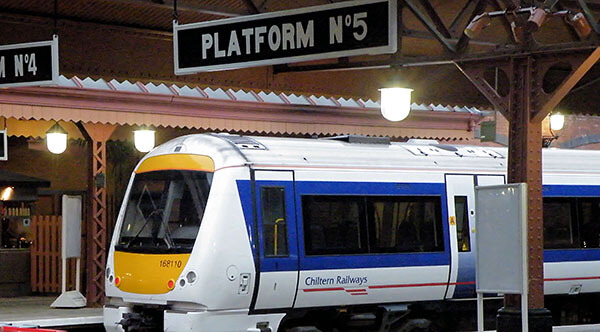 If you are traveling around the UK by train, and your journey includes visiting England's second city of Birmingham, its worth looking into making Moor Street Station one of your stops.
Advertisements:



A little gem of a building, it's a good starting point for a trip, and it is possible to get a low-cost fare to and from London. The trip starts in Marylebone station, one of the smaller, more atmospheric stations in the city, which is somehow less crowded and frantic than the bigger stations. And ends at this station an alternative to using Birmingham New Street Station.
The journey can be a relaxing way to cover the miles. Obviously the train gives you time to relax and read or listen to music, which may not have been possible in a car.
The train whips along up through the middle of England, passing double-barreled named towns and villages.
Arriving at Moor Street it is worth pausing to take in the skylights, brickwork façade details, "twirly" bits of wrought iron and all the little details that the recent, award winning restoration, has brought back to the station, which hark back to the great romantic age of train travel and the age of steam. In fact on summer Sundays you may see some of the restored steam trains that run from the station out to Stratford-upon-Avon and other destinations.
From the station you emerge surrounded by the fresh, new buildings of Birmingham's main shopping center. The whale-like, organic form of the Bull Ring shopping centre covered in thousands of aluminum discs – inspired by a Paco Rabanne sequined dress – is a striking sight.
Moor Street Station location
Birmingham Moor Street (BMO)
Queensway
Birmingham
B4 7UL
Photo by R~P~M on flickr
You should follow me on twitter here.