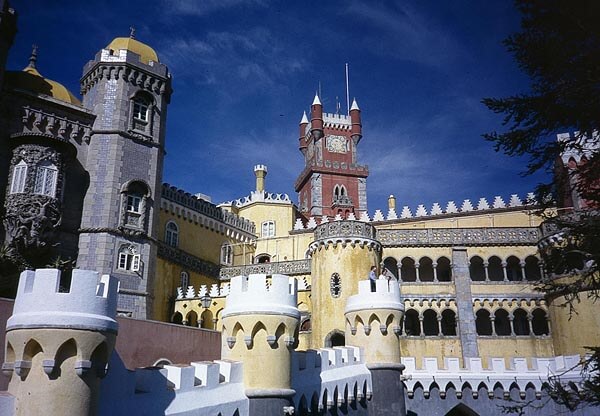 Like the more famous Alhambra Palace in Spain, Portugal's National Palace at Sintra dates back to the time of the Moors. Unlike the Alhambra, little remains of the Palace's Islamic roots – but this doesn't make it any less a highlight for anyone touring the Lisbon area. Recognized by UNESCO as a World Heritage Site, the Palace is a fascinating reflection of six centuries of ruling monarchs.
Visited by roughly 400,000 people a year, there is much of interest. The architectural aficionado will note that the central buildings date back to the time of King John I, who, starting in 1415, oversaw their construction, arranged around a central courtyard, on the site of the earlier Moorish palace. A later building campaign during the 16th century, featured elements of Gothic, Renaissance, and Islamic style, is named Manueline style after the king who spearheaded the renovations. Despite some damage during the earthquake of 1755, much of early structures remain intact, offering a fascinating view of a world long gone.
For the art fan, there is also much to see here, including a fine collection of ceramics, furniture dating back to the 16th century, and small but well-maintained collections of paintings, sculpture (mostly wooden sacred images), metals, and textiles.
Even the casual tourist will enjoy an afternoon spent browsing through the rooms of the Palace, including Swan's Room, with its painted swans gracing the ceiling, and the Sala das Pegas (magpies), painted with images of the talkative birds by King John, who tired of the gossip of the palace woman after he was discovered kissing a lady in waiting by his wife, the queen.
You'll find a shop featuring well-made reproductions and other objects on the grounds, which are also very lovely and worth a stroll during the pleasant sunny weather that is typical of the region.
National Palace at Sintra address and hours
Palácio Nacional de Sintra
Largo Rainha Dona Amélia
2710-616 Sintra
Portugal
Advertisements:



Admission is seven euros, and the building is open every day except Wednesday from 9:30 a.m. to 5:30 p.m.
Photo by Peter Curbishley on flickr
You should follow me on twitter here.