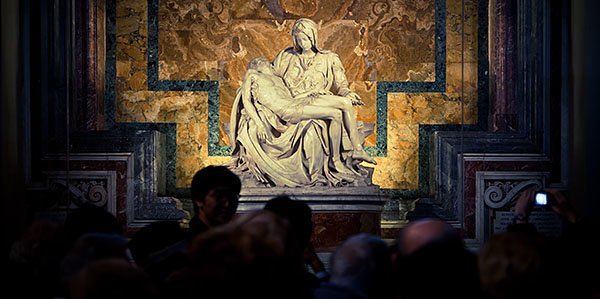 The Vatican Museums (Musei Vaticani in Italian) is one of the most important museums in the world, dating back 500 years. This museum is home to some of the most interesting pieces of art sculpture in the world. This includes many of the most famous sculptures from the Renaissance period, one of the greatest periods for art in world history.
The Vatican has 54 separate rooms, hosting masterpieces in every one. Visitors to the museums will need to walk thorough each of those before reaching the amazing Raphael's Sistine Chapel, where they will stand aghast at the beautiful interior. When visiting, you will soon see why the Vatican Museums broke all attendance records in 2011, with over 5 million visitors. So you won't be alone while visiting here during your Rome trip.
The museum was founded in the 1500's by Pope Julius II, when a sculpture of Laocoon (the priest who tried to convince the Trojans not to accept the greek horse) was seen in a nearby Vineyard. Pope Julius sent his men to examine the statue and immediately purchased it, putting it on public display. Ever since that day, the museums collection has grown and grown with some of the most beautiful masterpieces ever created by human hands.
The museum hosts many art masterpieces as well as sculpture, with paintings from Leonardo Da Vinci, Caravaggio, Giotto amongst many others. Priceless masterpieces by the true greats adorn the halls.
A visit to the Vatican Museums would be one of the most memorable and breathtaking of your life!
Vatican Museums location and hours
Advertisements:



Vatican Museums
Viale Vaticano
00165 Roma
Italy
Open Monday to Saturday: the Ticket Office is open from 9 am to 4 pm. The Museums close at 6 pm. N.B. exit from rooms half an hour before closing time.
Photo by Benson Kua on flickr
You should follow me on twitter here.