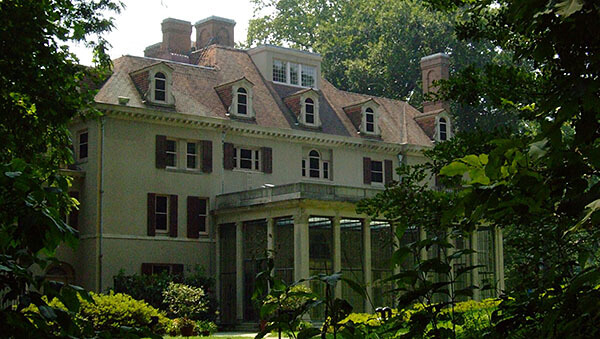 If you're looking for a relaxing, beautiful place to spend the day in Delaware, look no further than Winterthur, a few miles north of Wilmington. Although it is not the most popular attraction in Delaware, it is perhaps one of its most precious hidden gems.
Containing one of the largest and most comprehensive collections of Americana - art and materials that represent the colorful history and culture of America - in the United States, it is the fifth largest historic house in this country, in terms of square footage.
Winterthur, pronounced "winter-tour", is historically the private estate of the DuPont family. Henry Francis DuPont, the only surviving son, was at first a collector of European arts, becoming more and more interested in Americana, specifically those produced between 1640 and 1860.
In 1951, he decided to establish up the main building on the property as a museum open to the public and chose a smaller building on the property to call his home. Due to the vast amount of Americana found at Winterthur, it is typically considered the most valuable collection of American art and materials in the world.
Advertisements:



On the almost 1,000 acre property sits a museum, garden, and library. The museum is actually a 175 room mansion and houses almost 90,000 objects - furniture, tools, paintings, etc - of historical significance. Be sure to visit the famous Campbell Collection of Soup Tureens and any special exhibits they are hosting at the time of your visit.
Although Henry Francis DuPont is most well-known for this love of Americana, he also had a strong passion for gardening. It is from this passion that a 60 acre portion of land was reserved to be used as a naturalistic garden for Winterthur. The garden encircles the house, with the areas near the house being more curated and areas far away from the house being left to look more natural. The entire garden is re-landscaped each season, to showcase seasonal flora. The Winterthur Library, like the museum, is open to the public.
With more than 100,000 volumes of research materials on Americana, it has come to be recognized a premier institution for advanced study. The collection of research is materials is so vast that there is overnight lodging available for those who need more than one day to peruse the materials.
Winterthur Museum, Garden and Library location and hours
Winterthur Museum, Garden and Library
5105 Kennett Pike
Wilmington
DE 19735
Tuesday–Sunday, 10:00 am–5:00 pm
Last tour tickets sold at 3:15 pm. Last tour is at 3:30 pm.
Closed Mondays (except during Yuletide), Thanksgiving Day, and Christmas Day.
Tickets are valid for two full days, due to the sheer size of the museum, its gardens, and the library.
Photo by Amy Fry on flickr
You should follow me on twitter here.