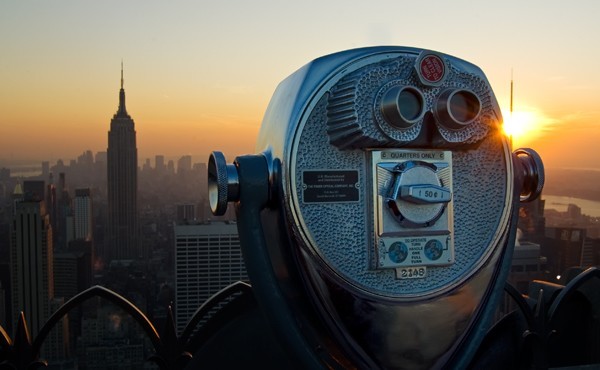 Visiting the Empire State Building in New York City is an experience you will never forget. The Empire State Building was constructed in 1931. It was the world's tallest building for the next 41 years and is currently the tallest building in New York City.
Standing at an impressive 102 stories tall (that's a quarter of a mile high), it is a prime example of Art Deco architecture. World-famous, the Empire State Building is both a New York landmark and a National Historic Landmark.
Visitors to New York City's Empire State Building are in for an exciting and educational experience. The main attraction is the Observatory. The Observatory is located on the building's 86th floor, which is about 1050 feet above ground level. From the Observatory you can view the city from all sides via a glass enclosed pavilion and the open promenade that surrounds it. The Empire State Building's Observatory is, of course, best known from being featured in the movies "An Affair to Remember" and "Sleepless in Seattle." Over 3.5 million people a year visit the Observatory. It is even a popular location for marriage proposals – so you never know what you will see when you visit! The Observatory is open every day of the year.
The Observatory is not the Empire State Building's only attraction, however. There are also three different coffee shops, a sushi bar, two restaurants, a bank, and several shops located in the building. In the lobby you will find art on exhibit and often concerts are held in the lobby, as well. And there is also an attraction at the Empire tate Building called the New York SKYRIDE, which is a virtual reality helicopter ride through the city. But whatever you opt to do, visiting the Empire State Building is a worthwhile experience.
Empire State Building address and hours
Empire State Building
350 Fifth Avenue
New York, NY. (Between 33rd and 34th Street)
Advertisements:



Open daily 365 days a year.
8 a.m. to 2 a.m. seven days a week. The last elevators go up at 1:15 a.m.
Tickets are $21 for adults.
Photo by Randy Le'Moine Photography on flickr
You should follow me on twitter here.