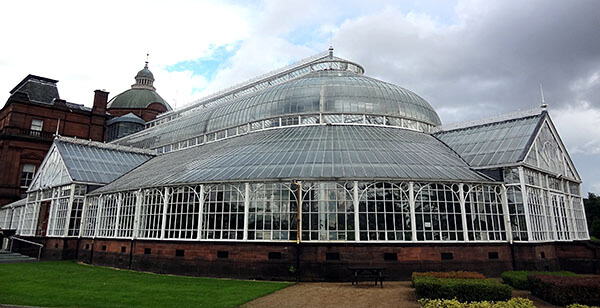 From inside the magnificent glass and iron conservatory you peer out to the crisp day, never having imagined finding large tropical plants and ferns in the middle of winter in northern Europe. Ceremoniously opened in 1898 with oratory by Lord Rosenberry declaring the space open to the people for ever and ever, the Winter Gardens is a green oasis in Glasgow, Scotland.
Advertisements:



Located in historic Glasgow Green, the largest public green space in the city, the garden's Victorian architecture offers a look back at a more relaxed era. Open daily, visitors to the 19th century structure will find various species of exotic palms, succulents and stunning varieties of hibiscus and other tropical flowering plants. The People's Palace, at the front of the conservatory, was originally created as a space for the common people to pursue the enjoyment of artwork, reading and other leisure activities.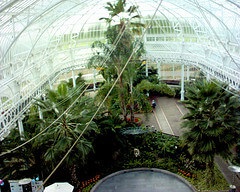 It is now a museum displaying historical scenes of Glasgow life stretching from the 1700's to today. Outside on the green, the largest terracotta structure of its kind, Doulton Fountain is a beautiful tribute to British royalty that all visitors to the Winter Gardens will enjoy.
Just a quick walk from the heart of the city, the gardens and museum are open daily and also easily accessible by subway, train or bus. Enjoy your visit to this garden oasis with refreshments from the café or a souvenir to remind you of your trip. These beautiful grounds can also be rented for wedding receptions and other events making that special occasion even more memorable. To experience the history of the people of this historic Scottish city through artwork, photographs and digital displays as well as enjoying the vibrant foliage as locals have done since the 1800's, visit Winter Gardens and the People's Palace in Glasgow.
Winter Gardens location
People's Palace and Winter Gardens
Glasgow Green
Glasgow
G40 1AT
The Winter Garden is open 10am to 5pm daily.
Photos by jimforest (1) and the tartanpodcast (2) on flickr
You should follow me on twitter here.