Welcome to the final installment of the eyeflare.com events calendar for 2009. We're listing one special event each month for 2009 that you want to plan some of your travels around. This part covers October, November, and December of 2009 and we've included some toe wrestling in England, the messy 'La Tomatina' in Spain, and the raucous German Oktoberfest.
If you missed the other parts, here they are: Events calendar 2009 Pt 1, Events calendar 2009 Pt 2, and Events calendar 2009 Pt 3.
October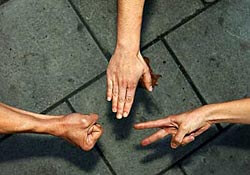 Toronto, Canada: Rock, paper, scissors might never make the Olympics but it's a serious business in Toronto, which hosts the world championships each October. Contestants from as far afield as Scotland, Germany and Australia head for the city to compete for about $10,000 in prize money.
An American took the title for the first time last year when Andrea Farina of Syracuse, New York, defeated David Arnold of Washington, DC. More information at www.rpschamps.com.
November
Pushkar, India: The Pushkar Camel Fair draws buyers and sellers from across northwest India as well as thousands of curious onlookers. Dazzling costumes and lavish jewellery make this annual event a photographer's dream. Pushkar's population swells from 14,000 to about 200,000 during the festival, where donkeys, cattle and horses are also traded along with about 50,000 camels that are decorated, shaved and raced.
The spectacle lasts for a week from 30 October to 2 November in 2009. More information at www.pushkar-camel-fair.com.
December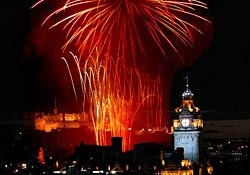 Edinburgh, Scotland: The Scots are acknowledged experts when it comes to celebrating the arrival of another year. They even have their own name for this time. Hogmanay celebrations start on December 29 and continue to January 2, a public holiday.
Advertisements:



About 100,000 people joined the massive street party in Edinburgh last year with live music on three stages, fireworks, including a giant bonfire where a Viking longboat was burned, and a torchlight procession. A mass swim in the Firth of Forth on January 1 is a guaranteed hangover cure. There are also dog sled races, a bicycle triathlon and downhill fun run. More information at www.edinburghshogmanay.org.
Share your favorite events
Are there any events during October through December 2009 that you feel have to be visited? Please let us know in the comments below!
You should follow me on twitter here.