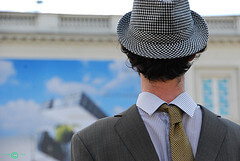 The Musée René Magritte was formerly the home of one of Belgium's most famous painters, the surrealist René Magritte. Today his home has been transformed with authentic furniture and architecture that transports you back to the world of the early 20th century as a young Magritte. The aim is to allow the visitor to live through the eyes of the great painter and to offer inspiration to the aspiring artist.
The museum does a fantastic job at achieving this aim and really lets you see how the young Magritte did his work. Most of his paintings are now located in the nearby National Art Museum but many remain in the Musée René Magritte to display his brilliance. One of the best museums in Belgium which offers you a completely new experience compared to other galleries.
Musée Magritte video
Address and hours
Musée Magritte Museum
Royal Museums of Fine Arts of Belgium
Rue de la Régence 3
1000 Brussels
Phone: +32 2 508 32 11
Advertisements:



Tuesday to Sunday: from 10 a.m. to 5 p.m.
Nocturne: on wednesday tot 8 p.m.
Closed: on Mondays, January 1, second Thursday of January, May 1, November 1 and 11, December 25
Museum Café: Tuesday to Sunday - from 10a.m. to 7p.m.
Museum Brasserie: Tuesday to Sunday - from 12a.m. to 2:30p.m. and from 6:30p.m. to 10:30p.m. Phone: +32 2 508 35 80
Museum Shop: 1 Place Royale - 1000 Brussels. Open from 10a.m. to 5p.m.
You should follow me on twitter here.