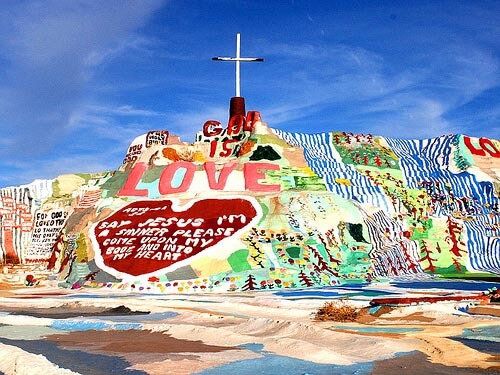 Salvation Mountain is an adobe mountain, brightly adorned with sculpted and painted messages of God's love, as well as images inspired by hot air balloons, and nature's beauty. It rises three stories above the desert, stretching out for nearly 150 feet.  Most amazing is the fact there once was no mountain; a man named Leonard Knight actually constructed a mountain from native adobe, straw, and window putty, coated in an estimated 100,000 gallons of paint.  
So, why did Leonard build this monument in the small town of Niland, population 1,143, located in Imperial County, California?  The story is that Leonard worked tirelessly to create a hot air balloon, emblazoned with the simple proclamation, "God is Love." Try as they might, Leonard, and the locals who attempted to help, could not get the balloon to fly.  It is in that spot where he embarked on his 16-plus year mission of creating Salvation Mountain, where he works and lives to this day in his pickup truck.  Interestingly, the government sought to tear down the mountain, claiming it was an environmental hazard, but independent testing determined it to be uncontaminated.  Leonard's supporters successfully had it declared a work of religious art, unable to be destroyed, still standing to be enjoyed.
While in Southern California visiting popular tourist attractions such as Palm Springs, San Diego, Los Angeles, or Disneyland, stop by Niland to see Salvation Mountain.  Visitors say you must see it in person to truly appreciate the magnitude of this masterpiece.  When you visit, bring along some old paint, as Leonard is constantly doing touch-up work, in addition to adding new features to his creation.  
Salvation Mountain location
Advertisements:



Salvation Mountain is located south of I-10, and 5 miles east of Highway 111 in Niland, CA.
Photo by Chuck Coker on flickr
You should follow me on twitter here.