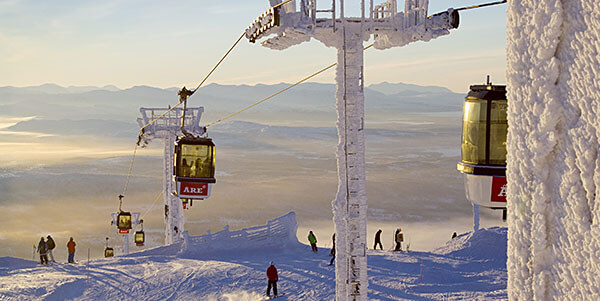 Wintertime is finally on the wane but the mountain resorts of Europe tell a different story. In the age of snow-making machines, modern ski resorts can keep the snows coming for longer, not to mention the ever-reliable powder in the higher climes of Val Thorens and Kuhtai, Austria.
Better value and quieter slopes in the late season renders those spring deals more enticing by the year for the savvy skier. But where are the best places to head for your last-minute continental ski breaks?
Austria has some of the most reliable resorts for snowfall, as well as undeniable Alpine charm no matter where you land. The resort of Lech is particularly well-favoured in its snow record, with the added bonuses of the Arlberg ski area on the doorstep, excellent off-piste terrain and a picturesque riverside setting. Further towards Salzburg, Ellmau is a good compromise if you're travelling with a family, as its ski schools offer high quality tuition, while access to the expansive Ski Welt area is there for more experienced skiers.
Look for late season opportunities in France and you'll probably come up with Val Thorens as a pretty safe bet. It may not be as cheap as other ski villages, but this is the time of year to go if you want to experience the upmarket ambience and high-class catering at more affordable rates. It also happens to be over 2000 metres in altitude, making it the highest resort in Europe and lending it one of the longest ski seasons as well. Elsewhere, Tignes makes a good alternative for the spring, where the presence of a glacier keeps the lifts running until May most years.
It's a good idea to head to more northerly countries to get the best skiing out of the coming months and Sweden boasts some of the greatest variety, as well as cold weather guaranteed for longer. Åre is the top choice here, with facilities to rival the more famous resorts of Switzerland and dramatic peaks like Mount Åreskutan challenging the Alps for scenic quality. If you're feeling brave, Riksgränsen lies beyond the Arctic Circle in Sweden, offering the chance to ski with the midnight sun, in the long days and light nights of early summer.
Advertisements:



As a rule, the further north or the higher up you travel, the better your chances at a really satisfying spring ski trip. The snows vary year to year, so it's best to keep one eye on the conditions as well as the prices before you select your destination. Watch out when you're packing supplies as well; the late season brings the boon of sunny days on south-facing runs so don't forget your suncream as well as your cold-weather gear.
While Easter may be approaching fast, one thing's for certain: the European ski season is not over yet.
Photo by andersc77 on flickr
You should follow me on twitter here.