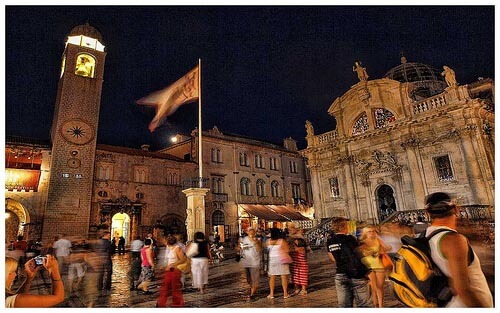 A few years ago, Croatia was nowhere near the top of the ladder when it came to thinking about where to go on holiday, however today it is one of the most popular European destinations to visit for travellers and families alike, due to its historic architecture combined with modern holidaymaking activities meaning that there's enough to keep everyone happy.
Known as The Pearl of the Adriatic Sea, Dubrovnik prides itself on its history; yet there's much more to this seaport than just buildings and history as you are about to find out.
Advertisements:



If you're not sure what there is to do, or are undecided about where to go, then read our guide and find out what Croatia holidays have to offer.
Sightseeing in Dubrovnik
Since there are so many things that paint the picture of Dubrovnik's history, there are a few places that should be on your sightseeing list while you're in the city, starting with the city walls, originally constructed to fend off attacks and to protect the city.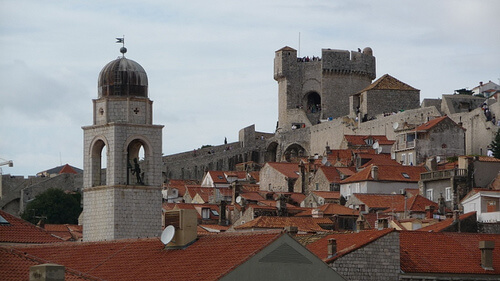 Today the walls are effectively a huge museum that surrounds the city, a fort at each of corner (Minceta Tower, Bokar Bastion, St John's Fortress and Revelin Fortress) of the old town providing stunning views of the city and over the Adriatic Sea.
If you want a few photos for your scrapbook, then the many gateways to the old town dotted around, with the Inner Pile Gates, Ploce Gate and Buza Gate the most notable.
Also, if you wish to find out about the Croatian way of life and culture, head down to the Stradun, Rector's Palace, Sponza Palace or the Francsiscan Monastery. It might help to hire a guide to get a quick overview of Dubrovnik, try Dubrovnik Tours.
Mljet National Park
Mljet National Park is a collection of forests, lakes and even Roman palaces, where you can rent a kayak and go out onto the lakes, or hike through the hills of the forests and admire the peace and quiet away from city life.
There are tours of the salt lakes available (The Small Lake and The Great Lake), or if you just want to sit back and admire the view, then there's accommodation available in both hotels and hostels, while there's also bars and restaurants serving up some of the local favourites if you're feeling hungry.
Head down to the beach
Dubrovnik has its fair share of beaches for you to soak up some sun if you want a day away from sightseeing, especially in the summer when the temperature can be as high as 34°C. The best beaches to visit are Banje beach, Sv Jakov beach, Copacabana beach or the Lapad Beaches, with water sports available if you want to get out into the sea for a while.
The locals at the beach play a game called Picigin; with the aim of the game similar to volleyball, however rather than playing against each other; you're all one team trying to stop the ball dropping by any means necessary – including dramatic dives into the sea. There should be no problems with you joining in, simply head over and shout for the ball, but don't try and show off doing keepy-ups akin to that of a footballer!
Water sports
Water sports at the beach are very popular amongst both the locals and tourists, as well as at the many national parks throughout the country. At the beach you can hire speedboats and jet skis, or if you're not scared heights then strap on a parachute and go parascending. You'll get some amazing views of the area, from the dizzy heights along with unrivalled silence as you'll be too high up to hear any noise from the beach. There are also various white water rafting courses in Croatia, kayaking if you don't want something as fast paced.
White water rafting
Despite not actually being in Dubrovnik, rafting trips can easily be arranged from your hotel or from the local tourist information office. Day trips run from Dubrovnik to both Montenegro and Omis, with extensive courses at both locations. The main thing to remember is to take a spare set of clothing, as you're guaranteed to get soaking wet through, and you don't want a coach trip back to Dubrovnik in wet clothes.
Scuba Diving
There are many diving locations around the Adriatic Sea that are amongst the most popular in the world, again which can be booked through your hotel reception or the tourist board. You'll need a diving licence before you can go and explore the wrecks in the sea and the local marine life, but these are only around £12 so it shouldn't set you back too much. The only downside is that the licences will only be issued to those who have completed diving courses from internationally recognised diving schools.
Some diving areas are off limits, such as any military areas and warships, so you'll need to apply to the Ministry of Culture first before you jump in. Any licences should be obtained before your trip to ensure there are no delays filling out paperwork before you start.
Hiking trips
The Dalmatian region of Croatia has many different mountains for you to navigate your way up; however some of the hills have very sheer and steep drops, so be careful before you just go rambling up. In the summer months there is little protection from heat, which can become unbearable, so if is too hot outside, wait for a cooler day before venturing out. More information about climbing in Dubrovnik is available from Dubrovnik online.
Try some Croatian cuisine
If you're in Croatia then you should really try some of the local food, rather than just living off fast food that you can get at home such as Subway, Burger King or McDonalds, so be brave and choose something off the menu that you wouldn't normally go for.
Many Croatian dishes are inspired by Italian cooking, so you should be able to get pizza or pasta in most places, but there are plenty of Croatian recipes that the restaurants will be proud to cook up for you.
Seafood is always popular on the menu, with Sea Bass being a specialty. Traditional Croatian meals include Fritaja and omelette, made from sausages, asparagus and truffles, while if you're after soup then ask for maneštra, made from potatoes, bacon, beans and garlic, along with a side dish of either chickpeas or corn.
Other information
If you're wondering how much you're spending on your holidays then continue reading. Evening meals will cost around £6 per head, but in the tourist orientated areas, expect to pay around 30% extra.
Simple things such as Pizza and pasta cost around £6, while a salad is about £3.50. The price of drinks depends where you go; a glass of wine can be £2.80, while cola and beer can be picked up for £1.50.
Don't just go into the first restaurant you see, have a wander and find somewhere that displays their menus and prices outside, or ask locals for recommendations.
It is also worth noting that as Croatia is not in the EU, cell phone bills can be a big surprise when you arrive home, due to there being no fixed roaming fee in place outside of the EU. Your best bet is to buy a local sim card or pay for an hour in an internet café and communicate using Skype.
Below is a guide to how many Croatian Kuna you get for your GBP:
£5 = 43.42 HRK
£10 = 86.84 HRK
£25 = 217.10 HRK
£50 = 434.24 HRK
£100 = 868.43 HRK
Photos by Sobrecroatia.com (1) and the mechanical turk (2) on flickr
You should follow me on twitter here.