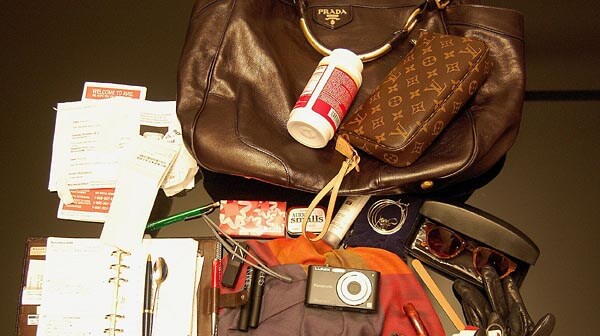 In the UK alone, people bring back half a billion worth of fake goods every year, meaning that retailers miss out on income of £12 billion should the same items have been bought locally. And them not being fake, of course. While all this assumes the buyer would have bought an original to begin with, the new numbers from Kelkoo are quite fascinating:
Almost half of UK holidaymakers (45%) buy 'fake' designer goods whilst abroad, with 5.6 million people spending a total of almost £0.5bn on these replica products in the last year alone, an average of £88 each

The most popular items purchased are handbags (30%) with consumers splashing out a total of £73.7 million followed by  designer clothing (28%) costing £60.5 million and sunglasses (26%) costing £26.7 million

Each 'holiday hustler' brought an average of seven fake items back to the UK totalling 43.5 million in the last year

Whilst nearly two thirds of holidaymakers (65%) knowingly purchased a fake item, 33% of disappointed shoppers thought they were buying a genuine product at a fraction of the price

Back in Blighty, almost one in five (18%) try to pass these purchases off as the real deal and 4% break the law by selling them onto friends and family

29% of bogus bargain hunters choose their holiday destination based on their counterfeit shopping list with more than one in four (26%) shopping in Spain, 23% in Turkey and 7.2% in Thailand or Greece
With schools breaking up for summer, the annual holiday exodus is well and truly underway as consumers head overseas in pursuit of sun, sand, sea and, most importantly, shopping.  However, all that glitters really isn't gold when shopping on holiday as a new report commissioned by Kelkoo, the online shopping comparison website, and conducted by Verdict Consulting reveals that nearly half of UK tourists (45%) end up buying counterfeit goods whilst holidaying abroad.  In fact, in the last year alone, 5.6 million tourists have flouted the law spending a total of almost £0.5bn (£494.6 million) on 43.5 million fake goods.  Amongst these shoppers, two out of three (65%) are fully aware they are buying fakes but one in three (33%) are duped into believing they are buying the real deal at a fraction of the cost.
7 fake items per holiday shopper
On average, counterfeit holiday shoppers splashed out on around seven fake items in the past year, spending a total of £88 each.  If these consumers purchased the genuine article in the UK, retailers would enjoy an additional income of £12bn, 96% more than the annual counterfeit shopping bill (almost £0.5bn).
The fakes we're buying
In the counterfeit shopping basket, the most popular items were handbags bought by nearly a third (30%) of holiday makers racking up a total bill of £73.7 million in the last year.  The second most popular category was designer clothing, purchased by 28% of fake fans at a total cost of £60.5 million.  Sunglasses (26%) and watches (23%) were next costing £26.7 million and £106 million respectively.  Based on these categories alone, UK retailers have potentially missed out on nearly £9.2bn in revenue.  Fake jewellery is also popular amongst one in four (25%) bogus-bargain hunters.  Despite just 3% purchasing phony precious gemstones, they still racked up a total shopping bill of £14.4 million.
Counterfeit controversy
Kelkoo's 'Counterfeit Holiday Purchases' report also investigated shoppers' attitudes, with many expressing a blasé approach when it comes to buying imitations.  Whilst 31% of holiday fakers think that their knock-offs are harmless, 28% feel they should be able to save a bit of money whilst achieving the designer look.  More than one in six (16%) respondents even went as far as to say fakes are beneficial to the retail market as they allow access to luxury brands for the masses.  Of those that are not prepared to fake it, 24% claim the counterfeit culture creates a 'chav effect' and cheapens luxury brands.  These people also have more of a conscience as one in four (26%) claim that they don't think it's fair on genuine brands as they lose money and 45% acknowledge that it's illegal and lines the pockets of criminals.
In contrast, just 17% of those who do purchase counterfeit goods expressed any qualms about the legalities of buying fake products.  However, these items are actually classed as 'banned goods' by UK Customs and not only do buyers risk an on-the-spot fine when making the purchase, these items could be confiscated by UK Customs and those caught out could even be prosecuted by the intellectual property rights holders. Worryingly, 4% of holidaymakers who sell their bogus goods on to family and friends could end up with a £5,000 fine or even jail if it's a repeat offence.
Back in Blighty
Over half (55%) of holiday fakers regularly use/wear their counterfeit products when they get home but 28% claim the product breaks or the quality is too sub-standard to use. However, almost one in five (18%) of those who buy knock-offs have no issues about lying to friends and family, as they try to pass their imitations off as the real deal. Just 1% get so embarrassed when family and friends spot that their new designer gear is fake they actually ditch it.
Counterfeit are bought in...
Advertisements:



Please don't use this as a go-to list for getting fake goods! Anything you bring back is liable to confiscation should customs notice it.
For many, choosing a holiday destination might be based on the weather, hotel choices or local attractions.  However for 29% of holidaymakers who buy fakes, the availability and opportunity to purchase counterfeit goods was a significant driver when deciding the best place to holiday.  The most popular destination for travellers to pick up fakes is Spain (26%), followed closely by Turkey (23%). Other high ranking destinations include Thailand, Greece and China.
Chris Nixon, Managing Director of Kelkoo Travel, said:
"It's clear from our research that two out of three holidaymakers are keen to take advantage of cheap counterfeit goods. However, people must remember that you get what you pay for and more often than not, the quality and durability of these products is pretty poor. Also, it's becoming increasingly difficult to spot counterfeit items, which is why a third of people are duped into thinking that they are buying the genuine article when they are, in fact, buying a fake."
Nixon's top tips for holiday shoppers:
Learn to spot a fake - examine the quality of the item, check the materials used, look out for misspelt brand names, poorly designed logos, faded colours and missing labels.
Make sure the seller has a returns policy – and be confident that you will be able to find them again if you need to return the item.
Take care when buying electronic/electrical goods – scammers have been known to fake the kitemark symbol, which guarantees quality and safety.
After-sales – check what guarantees apply to your purchase (especially for electronic goods) and check the after-sales policy.
Be aware of where you make your purchase - shop at reputable retailers, as fake goods are often sold in locations like markets and by street sellers.
If you think a seller may be stocking fakes, ask questions - if the vendor is vague about the product and does not know about its origins, how it is made or how the product works, then it is probably a fake.
Check for authenticity - many designer items have authentication cards, which have the manufacturer's logo embossed on the front along with product information and serial numbers or holograms. If you are purchasing silver or gold jewellery, look for a genuine hallmark.
If you are buying CDs or DVDs - If it is new, the package should be sealed and wrapped in a clear covering. If you can open the box, check the CD has no scratches and that one of the sides is printed.
"Overall consumers should understand that there are serious implications of returning home with a case full of counterfeit goods. If they are stopped at UK Customs they could face the humiliation of having these items seized and, more importantly, face possible prosecution."
Photo by Rooey202 on flickr
You should follow me on twitter here.