It doesn't take huge money to create a ceremony which will remain in your, and your guests', memory for a long time. A bit of creativity, and willingness to travel, can be just the ticket to create something both glamorous and budget friendly.
A winery wedding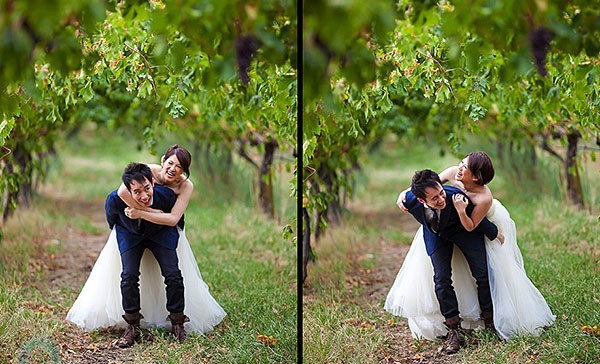 Photo credit: www.daveandcharlotte.com.au
For a fairytale set in a secret garden, a winery wedding is a paradisiac location for couples on a budget but wishing for a rustic elegance. Places like Swan Valley in Perth, Australia is a perfect example. This sophisticated cosmopolitan city, hosts a hidden gem of historic vineyards and wineries where wonderful weather and nature meshes perfectly. To keep costs down for a winery wedding double check any fine print the winery may have within your contract, including required liability insurance or the hiring of "on site" managers staffed by the winery. Because the main purpose of the winery is to sell wine, ensure that a package is in place to accommodate all guests including any items for either the wedding or reception the winery may offer. Package prices for a winery wedding may range from $3800 to $6000.
A volcano wedding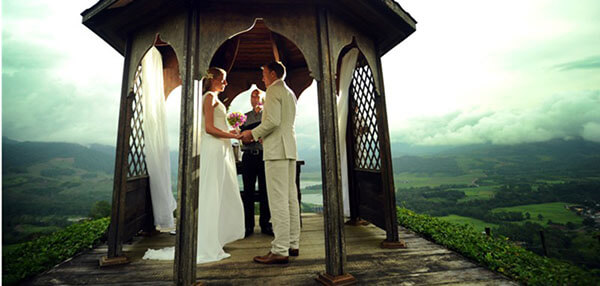 Photo credit: www.eventscr.com
For a more intimate, small affair, a volcano wedding is the perfect location for couples wishing to capture and embody romance in a unique location. Of course not every country has a volcano ready at a moment's notice, but places like Costa Rica, Greece, or Hawaii's Big Island are excellent locations that can also translate as your honeymoon destination. Popular locations in Hawaii include Kilauea Caldera or Kilauea Iki Crater, or forested areas like Kipukapuaulu. The largest expense for this unique wedding is the cost of travel and accommodation to this area; however, if the bulk of your wedding budget is towards your honeymoon, this is the perfect destination. The cost of a volcano wedding includes the individual who solemnizes the marriage, the wedding permit fee, and any entrance fee to the volcano park. Approximate cost is under $2000.
A wedding on ice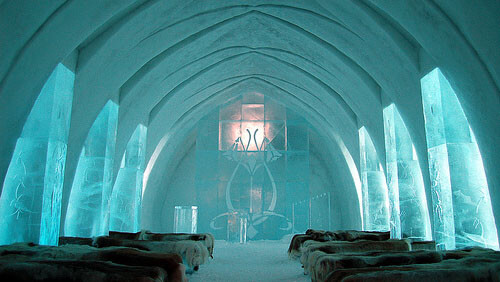 Photo credit: www.vacationideas.me
Brave enough to traverse the cold on your wedding? Choose an ice church to exchange your eternal vows to your loved one. The Ice Hotel in Jukkasjärvi, Sweden hosts more about 150 weddings in this subzero environment. Not only is this a unique environment to exchange your vows, but a new ice church is built every year next to the Ice Hotel for the magical exchange to occur:
To promote the uniqueness of the ice church, couples can also choose to arrive on a sleigh pulled by reindeers. While the location of this beautiful adventure is in a small village, couples and wedding guests can enjoy the boundless winter activities available: safari across the snowfields, snowmobile rides, and Northern Light Tours. Approximate cost is $3400.
A safari wedding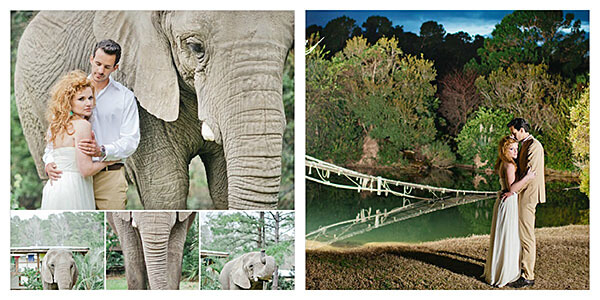 Photo credit: www.weddingchicks.com
Advertisements:



Avoid the fake zebra or cheetah prints for a safari wedding and choose to have your wedding in beautiful Africa on an authentic safari. Adventurers seeking a unique wedding can choose a location where wildlife games, such as giraffes or elephants are roaming nearby. Share your vows under a nearby African bush and choose to intertwine Africa wedding traditions with yours. For a more unique approach, have tribal singing by Samburu or Maasai warriors and women to bless and praise your new life. After the wedding, guests and the newlyweds can choose to attend a lavish reception or a romantic picnic. To entertain your guest, choose a night-time game drive, an evening bush walk, or a lavish reception to complement your safari wedding in full African regalia. Approximate cost is $4500. 
You should follow me on twitter here.