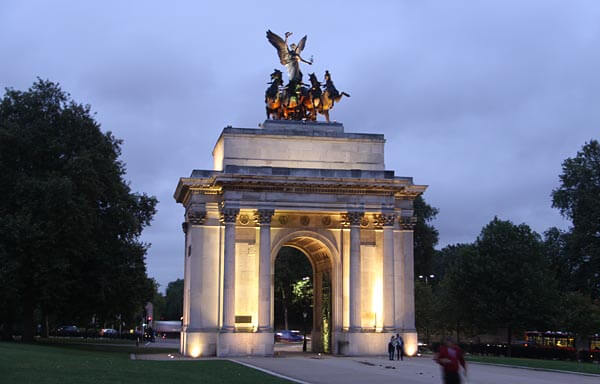 The Wellington Arch in London, England is a prime example of nineteenth-century extravagance. Adorned with an elegant statue, this large, awe-inspiring gateway stands tall in London's famous Hyde Park. The Arch is open to the public and its interior contains a small museum dedicated to the structure's history. Two terraces provide extensive views of Hyde Park and Buckingham palace, providing a potential backdrop for photos. All while in the presence of Europe's largest bronze statue - The Quadriga, atop the Wellington Arch.
Built in 1826, the Wellington Arch is a tribute to Duke of Wellington's victory over France in the Napoleonic war. It has been moved multiple times, and now stands as the entrance to Constitution hill. Surrounding Hyde park contains many memorials, including one to Princess Diana of Wales. This rich, historic district of London is a travel destination provides a glimpse into the magnificent history of Great Britain and its longstanding reign as one of the foremost countries in the world.
The Wellington Arch address and hours
Advertisements:



The Wellington Arch
Apsley Way
Hyde Park Corner
London
W1J 7JZ
Open Wed - Sun 10 am to 5 pm, closed Mon & Tue
Photo by abroadjz on flickr
You should follow me on twitter here.