Introduction to Vancouver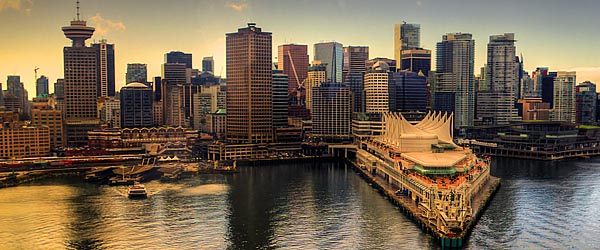 The minute you set foot in Vancouver, Canada, you will fall in love with it. How could you not? Whether you are arriving by land, sea or air, you will be hit by the natural beauty that surrounds this surprisingly large city. Vancouver was the host for the 2010 Winter Olympics and the games put this gem of a city on the map. From its glittering harbor, to the snow-capped peaks so close it looks like you can touch them, this natural beauty is the first thing visitors will notice. But there is much more to discover in this young, vibrant city.
One of the best ways to get to Vancouver is by the Amtrak train that runs from Seattle to Vancouver. You will wind along the Washington and Canadian coasts before arriving downtown. Grab a window seat on the left side of the train to get the best views. If you are arriving by air, you will be treated to fantastic views of the mountains surrounding Vancouver, including the Whistler-Blackcomb area which will play host to the skiing events of the Olympics.
When you arrive, a wealth of attractions awaits. If you love the outdoors, head first to Stanley Park where you can walk or jog its numerous trails. You won't believe you're in a city as you wind your way among the tall Douglass Fir and Cedar trees. You can't miss the Vancouver Aquarium while you're there either. If you're salivating for really authentic Chinese food, try some dim sum in Chinatown. If you want a taste of old Vancouver, head to Gastown or to Granville Island. There is something for everyone in Vancouver and it is just waiting for the world to discover it.
Photo by ecstaticist on flickr