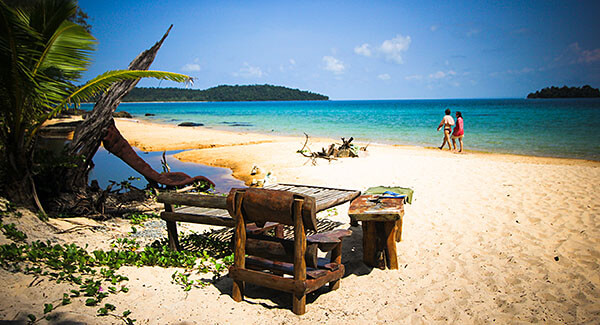 Not many people realise when they're travelling around Cambodia, that it also has a wealth of tropical islands to explore as well! 
Unlike its Thai neighbour, these islands are still very much undiscovered by most tourists, so if you're looking for the real deal when it comes to paradise; the Cambodian islands are the place to go. Most of the islands here are situated just off the north east coast and the best place to get out to them from, is the port and party town of Sihanoukville.
From Sihnoukville you will be able to buy a open return boat ticket (around $20) to most of the islands in the area which include; Koh Rong, Koh Rong Shalom, Koh Russie and Koh Ru. 
Koh Rong is the biggest island in the area but yet only has a single strip of around 10 guesthouses and 8 restaurants near its one pier, which your boat will arrive and leave from. 
Koh Rong has endless stretches of pure white sands and is surrounded by crystal clear turquoise ocean... it's like swimming through velvet when you take a dip in its lukewarm waters; the perfect paradise. 
Snorkelling and diving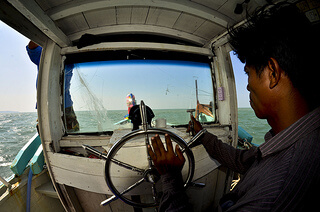 Renowned for its excellent snorkelling and diving opportunities, due to the great underwater visibility and abundance of marine life here. From stringrays and puffer fish, to whale sharks and sea turtles... one of the best places to dive in Asia. Koh Rong also runs its own diving school so you can gain your PADI diving qualifications here too as well.
Jungle treks
Koh Rong also has great trekking routes all through its plentiful jungle, which still covers majority of the island. It is highly recommended that you take a guide when trekking through the jungle here, as not all routes are clearly marked as they are still pretty new. All manner of exotic birds, monkeys and other wildlife can be spotted here... so keep your eyes peeled!

If you make it through the jungle to other side of the island, you are in for a treat! One of the most beautiful beaches lies waiting for you here, which is even more deserted than any of the others due to the walk to get there. But don't worry, you can get a boat back round to the other side if you find yourself a bit tired out.
Fishing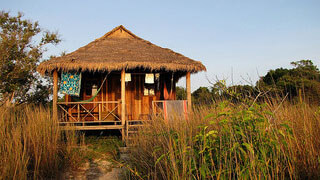 Another amazing thing to on Koh Rong is to go on a sunset fishing trip with the local fishermen. Catch your own dinner, in the form of big barracudas which will be slapped on the BBQ as soon as you get back to shore. One of the tastiest meals you'll ever have and the great satisfaction that you caught it yourself!
Where to stay?
There are a range of places to stay on Koh Rong from the budget backpack dormitories near the pier to the more luxury bungalow resorts further up the main beach.

Some island hopping in Cambodia should definitely be on your check list if you are visiting Asia, before too many people find out about them!
Advertisements:



Photos by Aaron Bradford (1), Sergi Hill (2), and Cat (3) on flickr
You should follow me on twitter here.