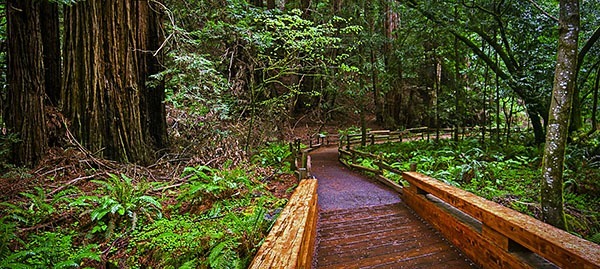 Named after preservationist and park advocate John Muir, Muir Woods is a 554 acre national monument located a short twelve miles north of San Francisco off Highway 101. Declared a national monument by President Theodore Roosevelt in 1908, Muir Woods is a living tribute to the Pacific Redwood.
The park itself contains six miles of trails. There is a half hour loop, and one our loop, and a one and a half hour loop. These trails are paved and used by pedestrians only. Bikes are allowed on the fire roads only nowadays, a sharp contract to the wood's heritage as one of the birthplaces of mountain biking.
There is no food allowed on the trails, due to the extraordinary amount of wildlife around the trails and in the woods. The weather in Muir Woods National Monument is usually foggy and cool. One thing a visitor can count on most days of the year is fog, in common with this region of Northern California.
Before planning a day at the monument, a visitor would be wise to check the National Parks Service website to see if there are any weather alerts. There is often rain from October through March, and visitors should plan appropriately.
Muir Woods is best reached by cars on the weekdays, since public transportation is not available in the park. Pets are not allowed in the monument. There is a café and gift shop on site. Muir Woods is open daily, including holidays. The current entry fees are available on the National Parks Service website.
Muir Woods location and hours
Muir Woods National Monument
1 Muir Woods Road
Mill Valley, CA 94941
Muir Woods is open daily at 8 am, including holidays. Closing hours follow sunset times.
Advertisements:



Photo by jason jenkins on flickr
You should follow me on twitter here.