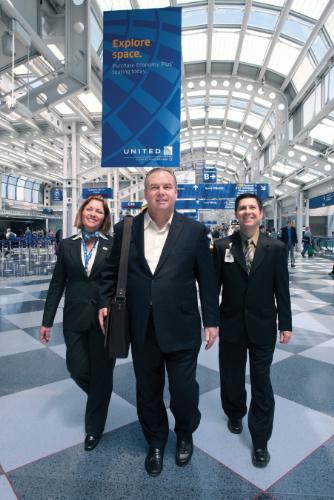 Miles above the U.S. heartland, nearly half-way between the Atlantic and Pacific coasts, one customer aboard United Airlines flight 942 from Los Angeles to Chicago this Saturday will reach a first-ever milestone: earning 10 million miles in flight.
Tom Stuker, a Chicago-based automotive sales consultant, joined Mileage Plus in 1982 and, since then, has logged 5,962 United flights – plus or minus one or two – including more than 200 roundtrips to Australia and nearly 30 to Asia. Stuker has touched down at airports in all 50 U.S. states, including 70 trips to Hawaii.
As United's most-frequent flyer, Stuker is the airline's first customer since the program launched in 1981 – and perhaps the first traveler ever – to fly 10 million miles. To equal his feat, a traveler could circle the globe 400 times, fly to the moon and back 20 times, or fly roundtrip between United's largest hubs in Houston and Chicago about 5,400 times.
"We are honored that Tom has chosen to fly with us for the past three decades," said Jeff Smisek, president and chief executive officer of United Continental Holdings. "We deeply appreciate his loyalty to our airline and look forward to serving him as he flies his next 10 million miles."
Advertisements:



While averaging nearly 29,000 miles in the air each month for 29 years, what does the mega-miler do during all those flights?
"I don't sleep as much as I'd like," Stuker said. "But I have found that the quiet and solitude allow me to be my most creative. During long flights, I've come up with some of my most innovative business ideas."
More than your average road warrior, Stuker, whose frequent travel earned him an appearance on the NBC sitcom "Seinfeld," is at home on an airplane.
"I can recommend what food and wine to order and which movies to watch," he said. "I'm like the Siskel and Ebert of the plane because I have already seen every one of them."
The next 10 million
Upon arrival this Saturday evening at Chicago O'Hare International Airport, Stuker will join family, friends, United employees with whom he has worked over the years and United executives to celebrate his achievement.
"While flying those 10 million miles, I have collected just as many great memories, smiles, experiences and new relationships along the way," said Stuker. "The thousands of people at United have made my travels wonderful experiences."
The merger of United and Continental will enable Stuker to see even more of the world.
"From New York, I'm looking forward to nonstops to places I've never been, like Scotland, Portugal, Mumbai and a few islands in the Caribbean," he said.
You should follow me on twitter here.