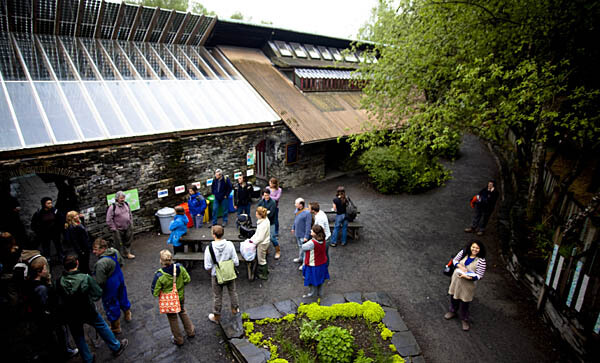 Machynlleth, Wales is located about 216 miles northwest of London, England and is sometimes referred to as "Mach". It is a market town in Powys, Wales. It is here where you will find the Centre for Alternative Technology, also known as CAT. It is an environmental charity to "inspire, inform, and enable people to live more sustainably." CAT is an organization that offers practical solutions to the problems of our environment. It is working towards renewable energy, energy efficiency, environmental building, organic gardening and alternative sewage system. The program started 25 years ago. CAT is located on 40 acres of land with 7 of those acres open to the public with displays.
When visiting CAT you can get practical and informative books and pamphlets at the visitors center which is open 7 days a week. Here you can also see ways that people, nature and technology can live together. You can find new ways of doing things such as gardening without using and get more with less. Other technologies you will see are generators for the sewage systems that get their power from the sun, rain and wind, and the building at CAT.
Be sure to ride on the amazing water-balanced cliff railway. It is two carriages linked together by a steel cable so that when you want to go up or down water flows into the tank until it is heavy enough to pull you up. The view from the railway is breathtaking.
You can watch the windmills (wind turbines) working in the wind to provide power. You can stroll through organic gardens and tour and eco-house.
There is a lot to be learned at CAT and it is a fun time learning it.
CAT is one of the few places in the United Kingdom where you have holistic advice covering every aspect of energy use and environmental impact.
Centre for Alternative Technology location and hours
Advertisements:



Centre for Alternative Technology
Llwyngwern Quarry
Pantperthog
Machynlleth
SY20 9AZ
The Visitor Centre is currently open every day, Monday to Sunday from 10am to 5.30pm (last entry 4.30pm).
Photo by Javier Delgado Esteban on flickr
You should follow me on twitter here.