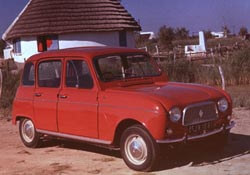 A very late issue of my roundup, which I've decided to make monthly rather than weekly. Let me know if you'd like to see more travel articles, more often, from around the web by commenting below.
2008 Mongol Rally: The Countdown Begins - Two nutty Englishmen set off from London to Mongolia, a journey of 10,000 miles, in a 1965 Renault 4.
"While most trips are hassle-free, an unlucky minority find themselves on the wrong side of a jail cell." Read 10 Extreme Cases Of Travelers Imprisoned Abroad.
Gadling's Jeffrey White has been spending some time in Albania lately. Here's what he writes about:
Perceptive Travel Blog writer Antonia Malchik covers proto adventure travel in Adventure before the days of Adventure Travel.
Watch out so you don't travel with this lot: Crash survivors debate whether to eat the pilot.
Stacey at Rambling Traveler shares some Things to do in London.
"The first time I came out of a European-style supermarket here in Dakar, I was immediately surrounded by a group of pitiful-looking young boys wearing threadbare clothes and clutching empty tomato paste cans, begging me for money. The vision is heartbreaking, the story behind it even more so, sadly." Read the rest of Plight of the Talibés from Traveling Stories Magazine.
For some understanding of why train travel in America is in such dire straits, read Train in Vain from Good Magazine. "If you got somewhere to be, you've got to fly," one conductor tells me early enough in my trip to set the tone for what's to come. We've been waiting for a freight train up ahead for about 20 minutes, the first of what will be many delays."
Stunning photos from Oregon at Notes from the Road in River Civilization. " I look for a way to fall asleep, so I turn on the television set. The Hills Have Eyes is playing. It's 2:31 A.M., and I am being entertained by the gruesome death of a family being eaten and tortured in the New Mexico desert."
Tango Diva (not her real name, I venture) relays her Adventure Travel in Brazil over at Divine Caroline.
Fun things on the web
Very funny quotes from author Terry Pratchett.
Aircraft Engineers are Funny Guys. Not to be read before your next flight...
Popular on eyeflare.com
During the last month, here were the 5 highlights at eyeflare.com travel tips:
Advertisements:



The article Shooting photos from a moving vehicle was included in the June Carnival of Travelers: The Photo Edition over at Fly Away Cafe (blog gone). Bus travel around the world was included in Travel on a Shoestring Carnival: Americas #5. Darren over at Travel-Rants included 10 nature walks with literary flavor in Budget travel, nature walks and simple travel tips, his latest blog carnival.
You should follow me on twitter here.