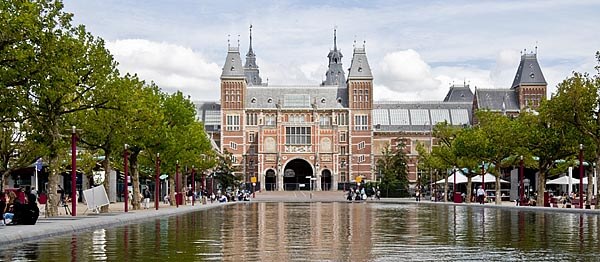 The Rijksmueum, located in Amsterdam, is the national art museum of the Netherlands. Its centerpiece is a permanent collection of Dutch masterpieces by Rembrandt, Vermeer, and De Winters. The museum has been undergoing a major renovation since 2009 so the "Masterwork" exhibition will be housed in the Phillips Wing of the museum until the renovations are complete in 2013. In addition to a rich collection of Dutch masterpieces from the Golden Age, the museum specializes in the collection of early Niederlandish art and Asian art representing works from China, Japan, India and Indonesia.
Advertisements:



A great way to prepare for your visit is to check the museum's website before you visit as they have fantastic interactive panoramas of the major exhibitions. If you speak Dutch, you can also download podcast guides to the major exhibits from the museum's website. The museum offers a wealth of extra programming for children and families and even has ice skating in the winter to mirror one of Avercamp's works.
If you can't make it to the main Rijksmuseum during your visit, try to catch it at the airport. Schiphol Airport has an exhibition right near the Passport Control. The works on display at the airport rotates, with works selected from the permanent exhibit at the main museum, and special pieces as well. The Schiphol Airport Rijksmuesum is open every day from 7:00am to 8:00pm.
Address and hours
Rijksmuseum
Jan Luijkenstraat 1
Amsterdam
The Rijksmuseum is open every day except January 1 from 9:00 am to 6:00 pm and Fridays from 9:00 am to 8:30 pm. Tickets cost Euro 15.00 and admission is free for patrons 18 years old and under. EYCA card holders pay Euro 7.50. Audio guides can be rented for Euro 5.00.
Photo by sainz on flickr
You should follow me on twitter here.