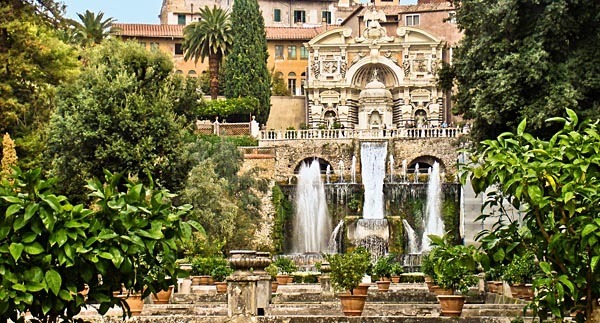 No visit to Rome can be considered complete without a side-trip to the ancient, cliff-side town of Tivoli, with its stunning villas and castles, its lush gardens, its arresting views of the Roman Campagna. But the chief reason to make the 30-kilometer trip is one of the area's greatest Renaissance jewel, the incomparable Villa d'Este.
The villa itself is magnificent enough to be a UNESCO heritage site, but its terraced gardens, magnificent walkways and cascading fountains, are so extraordinary and unique that they have been replicated or imitated the world over ever since the 17th century.
Knowing some of the history enhances the pleasure. The Villa d'Este was the brainchild of Cardinal Ippolito d'Este, grandson of the infamous Borgia pope, Alexander VI, and son of his no-less legendary daughter, Lucrezia Borgia. D'Este, himself a failed candidate for the papacy, consoled himself for his lost bid by accepting the governorship of Tivoli, evicting most of the local populace, and recreating, from an old villa, the glory of the courts he would never preside over as pope.
Advertisements:



He employed some of the most renowned architects, landscape artists and painters of the period and by the time he died in 1572, his villa was both a palatial masterpiece and an architectural wonder. Taking advantage of the dramatic cliffs and slopes of Tivoli, d'Este's architects had not only built a gem of a villa, but they had sculpted gardens unlike any ever seen, anywhere in the world.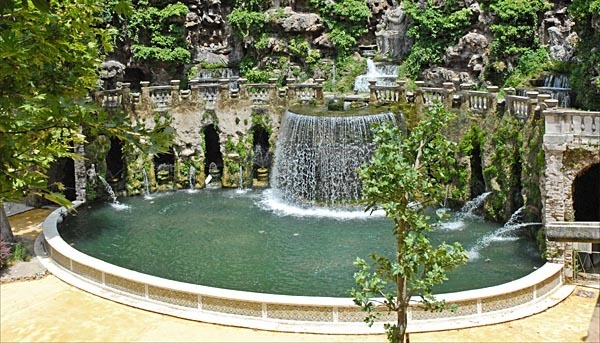 The villa itself is magnificently decorated in the style of the late Renaissance, with some extremely impressive ceiling frescoes. But it is the early Baroque gardens that lend the Villa d'Este its most singular appeal. Scattered among the many terraced gardens and walkways, are over 500 fountains of every imaginable kind, set in pools, along mossy avenues, in grottoes, or cascading down as waterfalls.
The Villa d'Este is a must-see for anyone with more than a few days to spend in Rome and its environs. It is easily accessible by car, rail or bus, or a Rome hop on hop off tour, and tickets are available online. If you are in need of a temporary respite from Rome itself, you should definitely consider a day spent exploring the splendor of Tivoli's Villa d'Este and its enchanting gardens.
Villa d'Este location and hours
Villa d'Este
Piazza Trento, 5
00019 Tivoli (Rome)
Opening 8.30 – closed one hour before sunset
Photos by M.Maselli (1) and dalbera (2) on flickr
You should follow me on twitter here.