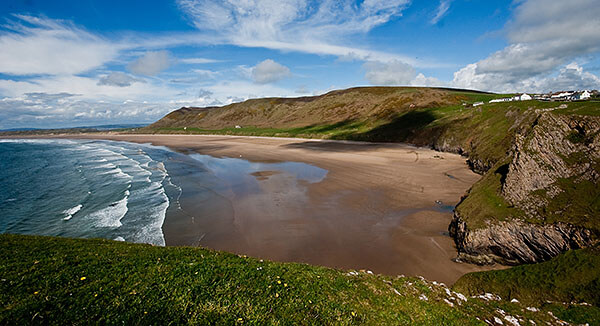 Revel in golden sands and bask in the glorious sun. The Louvre, Pantheon, Grand Canal, and Palazzo Vechio will always remain popular staples in most travelers' itineraries, but for those who want a more sun-kissed European summer experience, beaches are the way-to-go.
Bear in mind some of the following beaches when planning your next destination:
Rhossili Bay, Swansea, Wales
Consistenly recognized as one of the best beaches and picnic spots in Britain, Rhossili Bay has always been a beach-goer's favorite because of its panoramic views and luxurious white sand. The Bay also has some excellent waves that are perfect for amateur surfers.
Plage de Saleccia, Corsica, France
No noisy bar hoppers, no crowded shops, no modern gimmicks of any kind-  just a half-mile stretch of pure white sand and clear turquiose waters. For people who do not want to mingle with the rowdy summer crowds, Plage de Saleccia offers a peaceful sunny haven in this secluded side of France.
Cala d'en Serra, Ibiza, Spain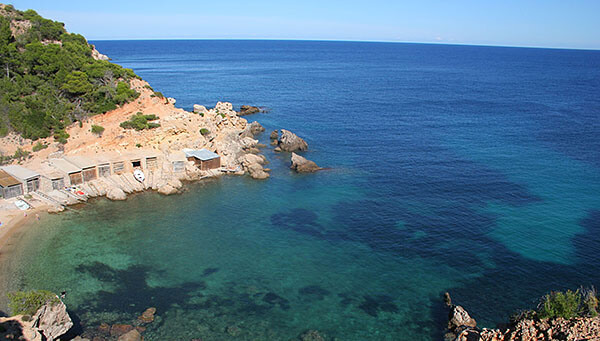 Though Ibiza might be known as the "Party Capital of the World," it is still home to one of the most tranquil and quaint beaches in Europe. The Cala d'en Serra is a bay surrounded by steep cliffs that provides lots of shade in the summer; the beach also houses a small and isolated cove nearby that is open all year round to swimmers. 
Reynisfjara, Vikurbraut, Vik, Iceland
Unlike most beaches, the ambiance in Reynisfjara beach is cold and mystical; its unique black sand and tall, ominous rock formations give the place an other-worldly feel. Though it might not be the sunny beach that you had in mind, the Reynisfjara is still one of the most radically distinctive beaches that you will ever visit in your life.
Rabbit Beach, Via Ponente Lampedusa, Sicily, Italy
With its unspoiled, crystal clear waters and fine white sands, it's no wonder that Rabbit Beach was named as Europe's best beach for 2013 by TripAdvisor users. Located off the south coast of the island of Sicily and accessible only by boat, Rabbit Beach is a rare natural gem that hasn't been overwhelmed by tourists yet. The best time to visit is around June, when loggerhead turtles lay their eggs on the beach.  
Sylt, Germany
Advertisements:



Because of its rustic beauty and charming landscape, Sylt is usually compared to the popular Hamptons in New York. But Sylt has its own unique charm; the island is home to a bird sanctuary, a historical grave area, ecological museum, and some great surfing spots.
Playa de ses Illetes, Formentera, Spain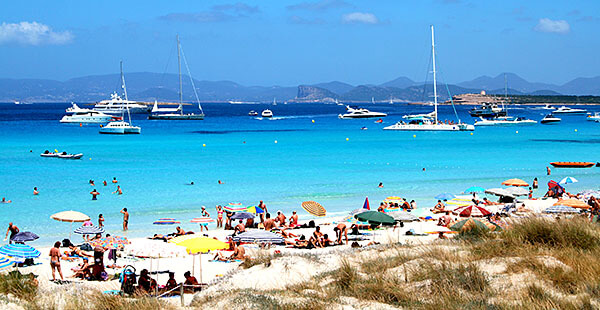 Pristine and free from any sort of modern development, the Playa de ses Illetes is located in the relatively isolated southern portion of Ibiza. It is accessible by ferry from the island, so the place is relatively more peaceful and less crowded than other beaches in the country.
Elafonissi Beach, Crete, Greece
One of the charms of Elafonissi Beach is the long trip that is required to get there. You have to drive through kilometers of panoramic mountains before you can reach the beach. Best time to visit would be on evenings, since the beach can get crowded with people during the day.
Skagen, Denmark
Skagen is the northernmost point of Denmark. It is known for its white sand beaches, picturesque views, peaceful waters (on the East Coast side) and a quaint little town that is located near the bay.
Curonian Spit, Lithuania
Another isolated gem, the beach at Curonian Spit is accessible by ferry from Klaipeda. Visitors can explore the area on bicycles, buy souvenirs from the Nida fishing village, or swim in the crystal clear sea.
Photos by Andrew Bennett (1), SAGT (2), and Jose Téllez (3) on flickr
You should follow me on twitter here.