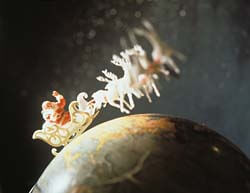 Happy Holidays everyone. This newsletter is a quick re-cap of what's going on at the site and a wish for everyone to have a fantastic holiday season.
About eyeflare.com
Thanks to my advertisers and sponsors of the site, I've been able to pay for excellent hosting via Thinkhost and investing in some re-programming of the site. A new commenting system, which is open to all visitors, should be done soon. Also, a cleaner and more useful layout is forthcoming.
Also, there are two new sections; Hotels and lodging and Travel photography that I hope to fill with more articles in the new year. For now, check out the winners of the National Geographic photography contest.
New articles on eyeflare
Recently, I went to New York with my wife, where she's from. It was a first for me and I really enjoyed the city and how vibrant it is. Just like London, but different. While there, we stayed at the Carlton Arms (review coming up soon), ate at the excellent Cucina Italiana Paprika on St. Mark's Place in the East Village and the nearly as good L'Express french bistro in Midtown. I got to take a wonderful walk in Central Park where I managed to get some nice 'autumny' photos as well. For great chocolate, try out Debauve et Gallais on Madison Avenue too.
Advertisements:



If you wan to find out more about New York and what's on, see my review of NewYorkology.
Travel articles
More general travel related articles, rather than bragging about my trips, outline eco-friendly travel habits, and ways to carbon offset to travel more greenly, and some food for a good night's sleep on the road. I have problems sleeping sometimes, I'm sure I'm not alone.
And, have you had a bad flight, check out the review of My Bad Flight and then share your stories. Speaking of horror stories, two recent articles are about how hygiene probably isn't high on the agenda for the hotels and some of the restaurants you visit, read about filthy ice cubes in Chicago and how hotels really don't clean the glasses in your room. So bring your own dishwashing liquid.
Even more disturbing, the U.S. has decided to tighten immigration for tourists even further and will now take your full finger prints. Never been arrested? Well, it'll be a refreshing experience.
If you're about to travel, remember to always pack these 12 things in your carry-on luggage. Then find a ticket via Priceline, which has eliminated its booking fee, giving you cheaper tickets, or one of the other online travel consolidators. Another thing to pack might be an Aquapure Traveller water bottle, which will get you clean water in the most remote locations. Or Hilton hotel rooms, if you've read about those hotel cleaners...
London
If you're wondering about the best things to do in London, the updated page on London resources is the right place to start. Also, if you're out partying in London and caught a bit short, try the Sat Lav service to find a loo quickly.
Destination ideas
Right now, we're in Tenerife and I wrote about the island in a Tenerife winter holiday just recently. More about this destination will be coming up. For other destination ideas, I'd recommend checking out New Zealand, Mykonos in Greece, sunny Costa Rica, or maybe a Caribbean cruise.
From Lauri
Lauri contributed two good articles to eyeflare since the last newsletter, check out Notes for aspiring music journalists, and Why I won't join Facebook. Thank you!
More Christmas reading
If you missed the article tips recently, read Great reads #3 and Great reads #4 and you'll have something to do for a few hours.
And before I forget:
Merry Christmas & Happy New Year To Everyone!
You should follow me on twitter here.